The English Florists' Tulip is distinguished by flamed and feathered markings caused by Tulip Breaking Virus, highly valued during Tulipomania.
English Florists' Tulips had their peak of popularity in the early Nineteenth Century, with many florist's societies growing the tulip and other florist's flowers like the ranunculus, carnation, anemone and the auricula, when standards of what represented a good flower were first laid down.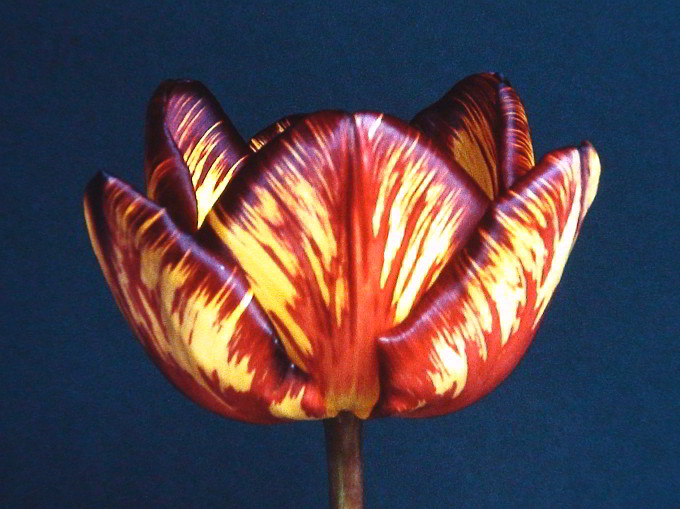 above Florists' Tulip Dr Hardy flamed.
Since then the number of tulip societies has declined, and when the Royal National Tulip Society closed in 1936, our society held the last remaining tulip shows in Britain.
Florist's flowers and standards
'Florists were persons who grew plants for the sake of their decorative flowers rather than for any useful property the flower might have. Later it came to refer to one who grew certain kinds of flowering plants and those to a very high standard, their excellence being tested at competitions held with fellow florists' (From Florists' Flowers and Societies by Ruth Duthie).
The Dutch Tulip is available in many forms including; Single Early tulip, Triumph Tulip, Lily-flowered Tulip, Fringed Tulip, Double Tulip, Parrot Tulip.
After the excesses of Tulipomania, tulip growing in the Low Countries settled down, following a very different path from the pursuit of perfect individual blooms by the English florists. The tulip now vies with the Hyacinth as the national flower of Holland. Virus-infected bulbs are now grown only in historic collections, but the tulip is big business as a bulb and as a cut flower for export.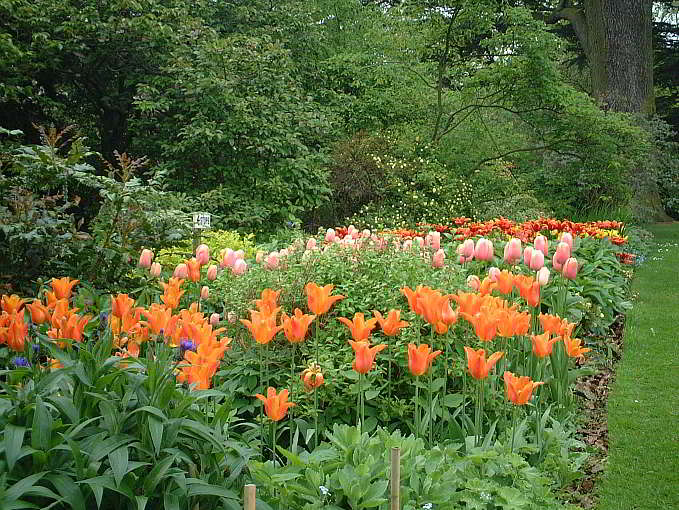 above Tulip planting display at Constable Burton gardens, North Yorkshire.
The Dutch Tulip is grown for its effect en masse, and many new varieties and sports have been cultivated. There are many different classes of tulip, extending the season from early March to late May with doubles, parrots and lily flowers. Breeding this century has created new varieties based on certain species, like the kaufmanniana ("Waterlily") tulips with their short growth and variegated foliage.
The Species Tulip or Wild Tulip, sometimes called the Botanical Tulip, is an amazingly diverse group found growing in the wild areas of Europe & Central Asia.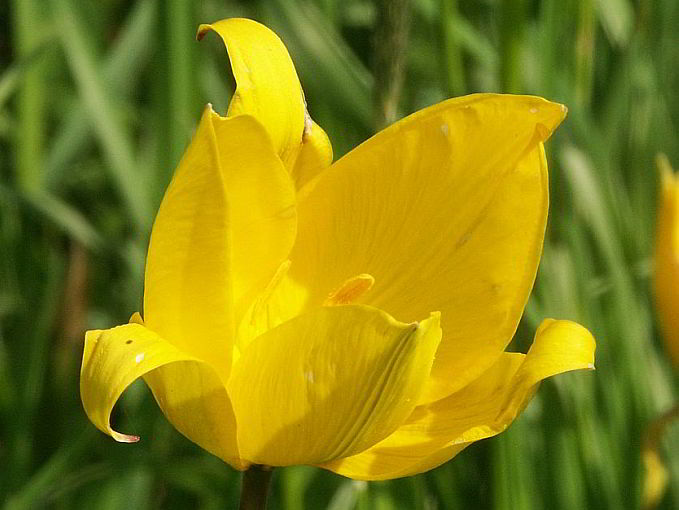 above Species tulips or wild tulips T. sylvestris, photo Wikipedia.
The Wild or Species Tulip
There has been a resurgence of interest in species tulips, going back to the "unimproved" forms of our garden flowers. They are best adapted to their native mountain gorges and rocky slopes, but many are suitable for pot cultivation or as rockery plants and are becoming more readily available from commercial suppliers.
Although species tulips are generally much smaller than their bolder garden hybrids, they are far from dull.
| | |
| --- | --- |
| | |
| above Species tulips or wild tulips T. tarda, photo Wikipedia. | above Species tulips or wild tulips T. turkestanica, photo Wikipedia. |