Old flames and feathers
Written by WNETS
Tulip Society wins Heritage Lottery Fund support!
The Wakefield and North of England Tulip Society has received a grant of £10,900 from the Heritage Lottery Fund (HLF) for an exciting project "Tulips, old flames and feathers!"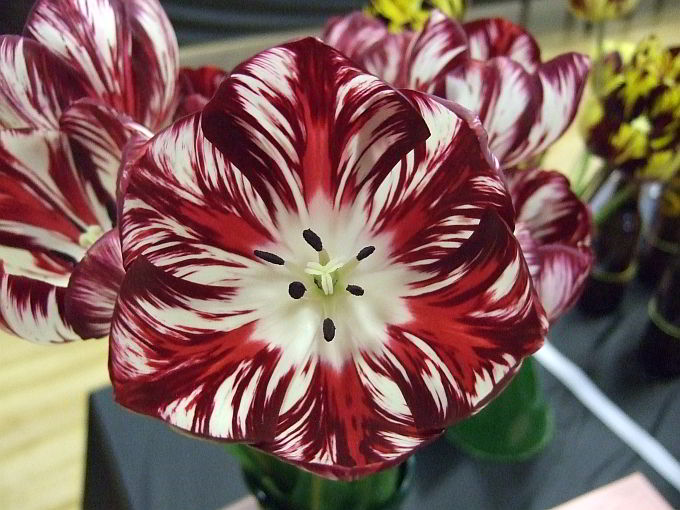 above English florists' tulips vase class Wakefield flamed , photo T. Clements.
During the project, local volunteers will bring the rich heritage of the society to people in the Wakefield area and beyond through colourful events, including talks and displays, and by setting up an online archive.
This will be a new and valuable resource for local historians, ancestry researchers, gardeners, schools and anyone who wants to hear stories from the past and learn about what kind of people lived in the Wakefield area and what their lives were like. It will give a voice to people from the past and conserve the memories of local people for future generations.
Teresa Clements, the society's Secretary said, "We are extremely grateful to the Heritage Lottery Fund for making this award and delighted to have their support. This project will interest and benefit many people, particularly around Wakefield, where tulips were grown by miners and shoemakers in the past and are still grown by local families today. We look forward to making younger generations aware of their heritage and hope to inspire new growers to be future custodians of what is a living historical treasure."
Fiona Spiers, Head of HLF Yorkshire and the Humber, said, "Tulips, Old Flames and Feathers will provide a fabulous opportunity to preserve the history of the last remaining tulip society and make it accessible to a wider audience. This project will allow people to learn about this distinctive pastime and some unusual traditions like displaying tulips in beer bottles."
The project runs from now until the day after the Annual Tulip Show in May 2013, concluding with "Tulip Heritage Day".
If you would like to be involved in the project or would like further information, please Contact Us.