Old Flames
This is the 'Old Flames' catalogue produced to illustrate the exhibition of paintings and prints held at the Yorkshire Sculpture Park in May 2006.
The book has 78 pages and includes colour photographs of all paintings and prints displayed at theis one-off even.
Flames and Feathers
The Tulip Society's new book 'Flames and Feathers' is printed and available to buy. Many thanks to James Akers for all the work he has put into this updated edition and to the editorial team who helped him.
The book has 128 pages and includes many new colour photographs of English Florists' tulips and also has sections on the history of the society, science and art. An attractive new feature is the timeline that runs through the whole book outlining notable people and events in the society's history.
Tulip Society wins Heritage Lottery Fund support!
The Wakefield and North of England Tulip Society has received a grant of £10,900 from the Heritage Lottery Fund (HLF) for an exciting project "Tulips, old flames and feathers!"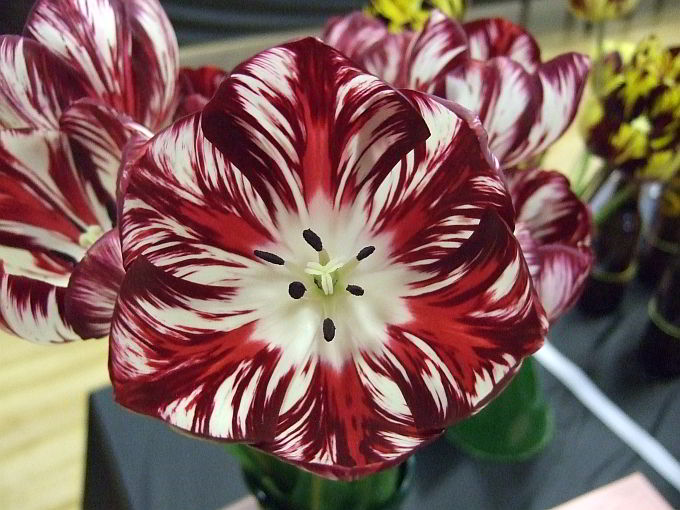 above English florists' tulips vase class Wakefield flamed , photo T. Clements.
During the project, local volunteers will bring the rich heritage of the society to people in the Wakefield area and beyond through colourful events, including talks and displays, and by setting up an online archive.
This will be a new and valuable resource for local historians, ancestry researchers, gardeners, schools and anyone who wants to hear stories from the past and learn about what kind of people lived in the Wakefield area and what their lives were like. It will give a voice to people from the past and conserve the memories of local people for future generations.
We've had a makeover!
above English florists' tulips breeders
Well here it is... the new and improved tulip society website! The main pages are up and running, and we hope to add lots of new and interesting features over the coming months.
The new website offers more flexibility for publishing articles and the ability to add other interactive elements.
Hopefully everything works as it should but if you spot any issues please let us know.